&nbsp
Hutter Putter Variable Speed Rotor Turning Drives
Posted by: Hutter Enterprises, Inc. on October 19, 2018 at 00:04:01.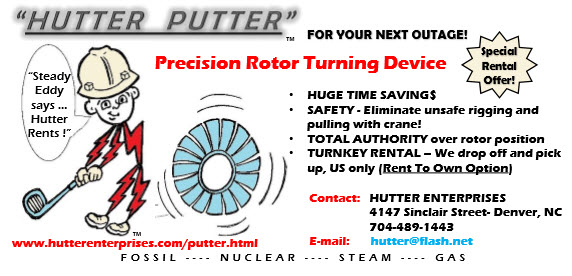 Hutter Putter Variable Speed Rotor Turning Drives are the safest and fastest way of turning your turbine rotors during an outage. They operate using a portable remote control pendent that goes right to any coupling you're working on. This design feature alone is one of many safety features that make the Hutter Putter a "must have" tool for contractors and power plants worldwide.
Hutter Putters shorten outages because they are used during critical path activities of the outage, such as coupling reassembly and coupling alignment. They also eliminate the source of many OSHA recordable accidents, namely the use of the overhead cranes for rotor turning. The Hutter Putter is also much safer, more reliable, and less manpower intensive than traditional methods of turning rotors such as air motors and pipe threaders that hang on top of the existing turning gear motor. Many first buyers of Hutter Putters were plants that had a severe worker accident involving an air motor or pipe threader.
Get "up to speed" and buy a Hutter Putter for your next outage. Why take a chance on somebody getting hurt? Why not save hours off your critical path? There are 3 standard models to choose from that fit General Electric, Westinghouse, Allis Chalmers, and all other makes of turbines from 20 MW up to 1400 MW. Custom models are also available, such as a permanent Hutter Putter emergency drive for unexpected turning gear motor failures.
Please contact us to discuss a solution for your needs:
Ed Hutter, P.E., President
Hutter Enterprises, Inc.
4147 Sinclair St.
Denver NC 28037
Office: 704-489-1443

---
[ Back ] [ The Roadtechs Electric Transmission and Distribution Job Board ] [ FAQ ] [Edit ] [Delete ]
&copy Copyright - Roadtechs&reg, LLC. All rights reserved. No reproduction of any part of this website may be sold or
distributed for commercial gain nor shall it be modified or incorporated in any other work, publication, or website.
Use of this site implies compliance with the Roadtechs User Agreement.