Website Overview
While we are not actively marketing the Roadtechs.com website for sale, we do on occasion consider purchase proposals. Before contacting us with any offer to buy Roadtechs.com, we ask that you keep the following items in mind:
We would only be interested in a complete buy-out. Partnerships or partial buy-outs with a stake in the new business do not interest us.
As a subscription based website with a steadily increasing gross income, we are at the higher end of whatever multiplier you wish to use to calculate the value.
Our subscription prices are very low compared to other sites in the industry. We could generate more income for the site by raising our prices, but we would lose some of our large and varied client base. Therefore, we understand that the value of Roadtechs.com appears to be artificially low.
We do not actively market our products and services, new clients generally come to us via word of mouth. Site income could be greatly improved if a buyer decided to market the website. This hidden value could be exploited by a buyer.
The design and functionality of the website are purposefully simple, many years of running the site have taught us that our users and clients prefer it this way. You shouldn't jump to the conclusion that the Roadtechs.com site has less value because it doesn't have a flashy, modern look and feel.
Parties interested in Roadtechs, LLC acquisition should refer to the below website overview, and complete the contact form provided:
Roadtechs website overview:
Users and clients trust Roadtechs.com, on-line since 1997 - 22 years in operation
Nearly 500 clients posting jobs (see https://www.roadtechs.com/accts/rt.htm)
Around 150 jobs are posted on a typical weekday
Currently provide twelve niche technical job boards:

Nuclear Power
Petro-Chem / Fossil / Offshore
Electric Transmission and Distribution
Alternative Energy
General Construction
Computers / Software / Networking / Telephony
Aerospace / Aircraft
Overseas / International
Medical / Pharmaceutical
Homeland Security / DoD / Federal Government
Shipyard / Marine
Manufacturing

Our daily user activity average is over 5,000 unique visitors to the site
Over 1,500 email & text push worker notifications per day
Over 6,500 daily HotSheet emails sent to workers
Very good search engine placement in our core areas
Roadtechs.com is much more cost effective than the competition
Roadtechs.com is easy to use, simple to navigate. Jobs can be posted in seconds, replies and resumes start coming in moments later
Fast and easy search tool helps users find the right job from the over 4000 listings
Read what our clients and users think about Roadtechs.com on our Testimonial Page
Roadtechs.com is a Veteran-Owned Small Business
About 40 thousand jobs posted every year
Around 300,000 job searches per month
Zero delay time to post
Zero delay time for responses. Jobs are available on boards and searches as soon as they are posted; Users can text resumes to recruiter
Canned discipline searches get jobs in front of the users faster
Discipline job emails (HotSheets) available to push jobs to the user's email box
Black Book Resume Database is available
Workers can broadcast their availability to recruiters quickly and effectively
Workers can elect to receive immediate notification of new job postings meeting their skill set
Roadtechs.com provides a sense of community to the energy, construction, technical and skilled trades work force
Roadtechs.com is 100% business, always above board. We have an excellent reputation in our industry
The Roadtechs.com site is intentionally simple in appearance and function to allow better use of our time and server resources, and offers a welcome familiarity to our users
Website optimization for Google Mobile platforms requirement complete
All website activity is process through a secure webserver (SSL cert; https://)
---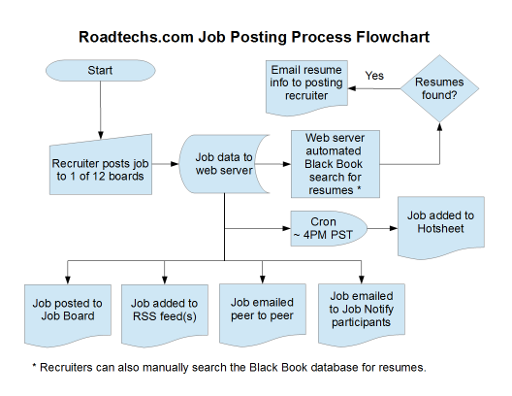 ---
Questions? Please use the form below to contact us (all fields are required):
---
page views: 4711

Use of this site implies compliance with the Roadtechs User Agreement
&copy Copyright - Roadtechs&reg, LLC. All rights reserved.